Pitch to Teachers from Plastic Outta the Park Team
Moving forward with our campaign, we identified early that for our campaign to be a success, we would have to get the teachers and managements support. There is a staff meeting every Monday and we decided that this would be a good time to lobby for their support. We asked our principle, Mr Lowry if we could pitch our initiative at one of these meetings and he eagerly agreed.
We decided to put our plan into action by introducing the teachers to our plans to make Newpark school a single use plastic free school. Two students Cilian Kerskens and Maya Baum decided to give a speech on the topic, these speeches contained an introduction to the idea, a proposal to make Newpark single use plastic free and then a finishing off with a pledge to make Newpark a single use plastic free school.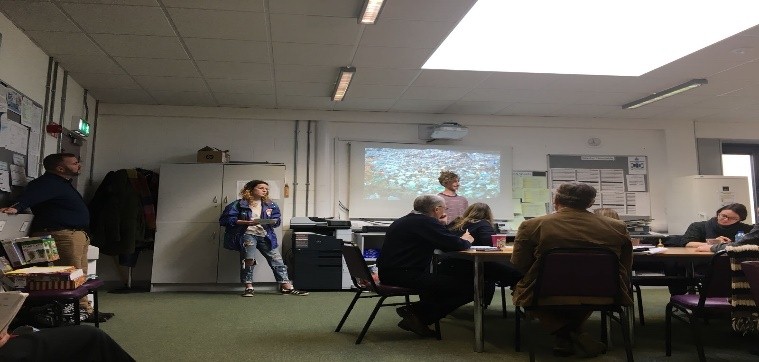 Mr. Lowry introduced Maya and Cillian and gave a summary of our initiative and what we are trying to achieve.
Cillian then took over from Mr. Lowry and spoke of our aims in achieving a non-plastic school and reducing how much waste we throw into landfill. Maya proceeded by posing a question to the staff, "how many of you have asked a student to throw a bottle in the bin?"- A relatable question that most teachers have said many times throughout their teaching careers. She then followed through by informing them how only one in six of these plastic bottles put into the recycling bin end up being recycled.
Maya then spoke of the effects that plastic has on the environment, and indeed, on ourselves. She informed the staff how plastic is clogging up our ecosystems and waterways, and how by 2050 there will be more plastic in our oceans than fish.
They then discussed the results of our survey and how 83% of the student body are on board with eliminating plastic from our school environment. She told them how the movement is fully backed and led by students, but that we need support from the teachers for it to be implemented and totally effective.
Maya then urged all teachers to sign the petition that pledged their support to our initiative and appealed to them form a committee.
The speech was a total success and we received positive acclaim from many members of staff. Many others willingly put their name forward to join our team and help implement our single-use plastic ban.